Show Info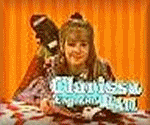 Clarissa Explains it All originally aired in the United States on the popular kids cable channel, Nickelodeon from March of 1991 to October of 1994 and ran for a total of 65 episodes. (Most live-action shows on Nick at that time only ran for 65 episodes.) It was filmed at Nickelodeon Studios in Universal Studios, Orlando, Florida. It was actress Melissa Joan Hart's big break into acting and it immediately became a hit.
The creator of CEIA is Mitchell Kriegman, who is also the creator of the hit Playhouse Disney show, Bear in the Big Blue House. Kriegman also helped to develop the classic Nicktoons Doug, Ren and Stimpy and Rugrats. Kreigman created CEIA solely for Nickelodeon and has said he doesn't know what he would've done if Nick decided not to pick up the show.
In August of 1992, Clarissa (the shortened title of CEIA) became a part of a line of programs shown on Nick on Saturday nights called SNICK (Saturday Night Nickelodeon). By this time, the show was becoming such a hit with Nick's viewers that Nick saw a market for official CEIA merchandise. Official t-shirts, a series of books, videos, a board game and even two CDs/cassettes were released. (NOTE: This merchandise in now very rare. I have tried ordering the CD Clarissa and the Straightjackets: This is What Na Na Means from Sam Goody, and they said it was out of print, so I'm assuming the same is true for Peter and the Wolf. Probably the best way to get any official CEIA merchandise would be through an online auction service such as eBay, UBid, Barnes & Noble  and Amazon.)  Clarissa was indeed one of Nickelodeon's top-rated programs.
However, all good things must come to an end, and Clarissa Explains It All was no exception to that rule. In October of 1994, fans of the show gathered around their television sets one last time to bid farewell to Clarissa, Sam, Ferguson, Marshall and Janet as Clarissa was gearing up to head off to New York City to work as an intern at The Daily Post, while Sam was getting ready to go to what might've been the college of his and every other teenage boy's dream, an all-girls college in Bibbington, Maine called Bibbington College. The cancellation of CEIA marked the end of an era for actress Melissa Joan Hart (insert IMDB address), who would go on to become an even more successful actress. CEIA continued in repeats on Nick US until 1997.
In September of 1995, the major US television network CBS decided to do a one-time-only sequel to CEIA called "Clarissa NOW." It was about what happened to Clarissa when she went to work at The Daily Post. The sequel only aired one time on CBS. It also aired on Sunday, October 1, 1995 in the regular CEIA time slot on Nick US during the "Big Help-A-Thon." It was reaired in the regular time slot on Friday, December 15, 1995. Almost a week later, it aired on Nick UK on Saturday, December 23. (Not sure if this is the correct day. I do know that it aired on Nick UK on December 23, 1995, but I'm not sure if December 23 was a Saturday or Sunday over there. If anyone from the UK would like to clear this up for me, please contact me . Your help is greatly appreciated! =-)  ) I am unsure if the sequel has aired in any other countries outside the US and the UK.
Despite it's cancellation in 1994, CEIA still airs in many countries on Nick and on some other channels. It ran in repeats in the US until 1997, when Nick decided to take it off the air.
Almost five years after CEIA was taken off of Nick for good, one of Nick's sister channels in the US called called Noggin started a new nightly block of teen programming called The N on April 1, 2002. The N features original programming just for teens and preteens, and CEIA was one of the shows on The N's lineup of programming. Noggin is only available to subscribers of satellite and digital cable services. CEIA could be seen nightly at and After a little over a year, CEIA was taken off of The-N and put back into the Nickelodeon vaults. Many people, including myself, wish they were still airing it. It was during that period of a little over a year that Clarissa's original fans got to relive a small piece of their childhood and Clarissa quickly picked up a new fan base with a new generation.